¶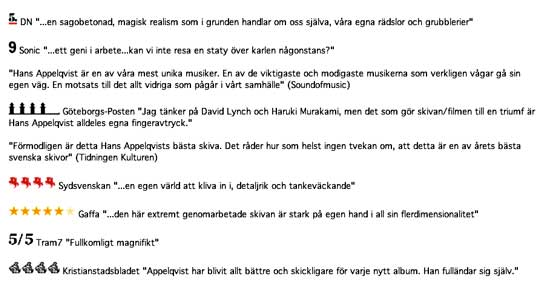 "Jag hade en så konstig dröm i natt. Du var med i den. Det var du och jag. Så var vi ombord på ett fartyg, ett stort fartyg. Och det var fyra stora bläckfiskar som drog fartyget i full fart framåt mot ett stort svart mörkt moln. Och fartyget det krängde och rullade så vi var tvungna att hålla oss fast i relingen för att inte åka av. Och så mitt på däcket så stod det en elefant på bakbenen. Så vaknade jag och nu kan jag inte komma ihåg vad han sa."
(Ur filmen Sjunga slutet nu)
Hans Appelqvists nya efterlängtade projekt inbegriper albumet Sjunga slutet nu och en film med samma titel. Verket är en skildring av ångesten inför döden, nedtystandet av och det slutgiltiga mötet med den. Filmen och skivan har en sagans atmosfär som både känns säregen och självklar. En värld där talande svävande klot har en lika naturlig plats i tillvaron som människan. I verket får vi möta Theodora, en äldre kvinna som bor i ett ensligt hus vid en sjö någonstans i Sverige. Vi möter också hennes två vänner: den sexårige pojken Vissen och det svävande klotet Sot, som ofta rör sig kring Theodoras hus eller ligger och vilar i mjölhögen som ligger förberedd åt honom i hennes kök.
Albumet Sjunga slutet nu är musik sprungen ur samma värld som filmen. Bitar av filmens musikaliska partier, dialog och ljudkulisser inkluderas som frön i en musikalisk helhet som expanderar och fördjupar skivans stämningar. Strukturen är komplex – trådar vävs ihop och tas upp på ett sätt som liknar drömmens fria icke-linjära berättande.
Ännu en gång bjuder Hans Appelqvist in oss till en av sina egensinnigt uppbyggda världar. Han har tidigare fått oss Att möta verkligheten i en tonsättning av intervjuer med två flickor, en kinesisk kvinna och en tysk dam. Vi har vandrat genom Bremort, ett fiktivt litet svenskt samhälle. Vi har fått lära känna den mytiska drömgestalten Naima med pelikanhuvud, en orakelröst som alltid svarar på våra frågor. Hans Appelqvist får oss att vandra genom okända världar där man inte kan vara säker på vad som är dröm och vad som är verklighet och på det viset får han oss också att möta oss själva.
Liksom gråsparven Tona har vi frågor att ställa.
"Varför finns det drömmar
hon tänker där hon står
på ben av oro ömma
Hon kan inte förstå
Att hennes dröm har gläntat
på dörren till en vrå
där tyst en låga flämtar
med döden tätt inpå."
"·"·"
Hans Appelqvist - Sing the end now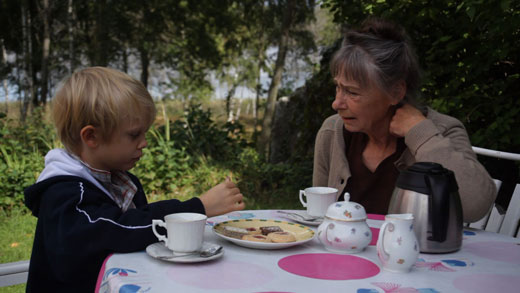 "Last night I had this weird dream. You were in it. We were on board a ship, a large ship. And there were four huge octopuses on the sides that pulled the ship toward a big dark cloud. The ship lurched back and forth so we had to hold on to the rail not to fall off. And in the middle of the deck there was this elephant standing on two legs. Then I woke up and now I can't remember what he said to me."
(From the film Sing the End now)
Sjunga slutet nu (Sing the End Now), the long-awaited new project by Hans Appelqvist, consists of an album as well as a film. The work deals with death; our angst and gradual silence in the face of it.
The film and album have the atmosphere of a fairy-tale, a world in which an animated sphere floating in the air seem as natural as the human person it is talking to. We meet Theodora, an elderly woman living in a lonely house by a lake somewhere in Sweden. We also meet her two friends: the six-years-old boy Vissen, and the creature Sot that floats in the woods surrounding Theodora's house or rests in a pile of flour in her kitchen.
Both the music and the movie originate from the same universe. Part of the dialogue, background sounds and musical scenes of the film are used to deepen the atmosphere of the album. The structure is complex – the threads are picked up and woven together in a non-linear narrative, similar to a dream.
Once again, Hans Appelqvist invites us to a world of his own creation. He has previously given us Att möta verkligheten (To Face Reality), a musical piece based on interviews and conversations with a Chinese woman and an elderly German lady. We have walked the streets of Bremort, a fictitious small town somewhere in the Swedish countryside. We have gotten to know the oracle Naima, a mystical female entity with a pelican's head.
In Hans Appelqvist's worlds you don't know when the fantasy ends and the reality begins, and in this state of uncertainty you are forced to face yourself.
Like the sparrow Tona, we have questions to ask:
"Why are there dreams?
She thinks
standing on legs
aching of anxiety
She can't understand
that her dream
has opened the door to a room
where a silent candle burns.
With death up-close."
======
THE CONCERT
Teaser video shot by Fabian Svensson at Inkonst dec 7 2011.
Concert length: ~ 45 min (adaptable)
Tech.Req:
|| PA system w/ mixer || 1 videoprojector w/ screen || 1 dynamic mic w/ stand || 1 guitar stand || 1 cardboard box (~ 60x40x20 cm) ||